Mario's First Birthday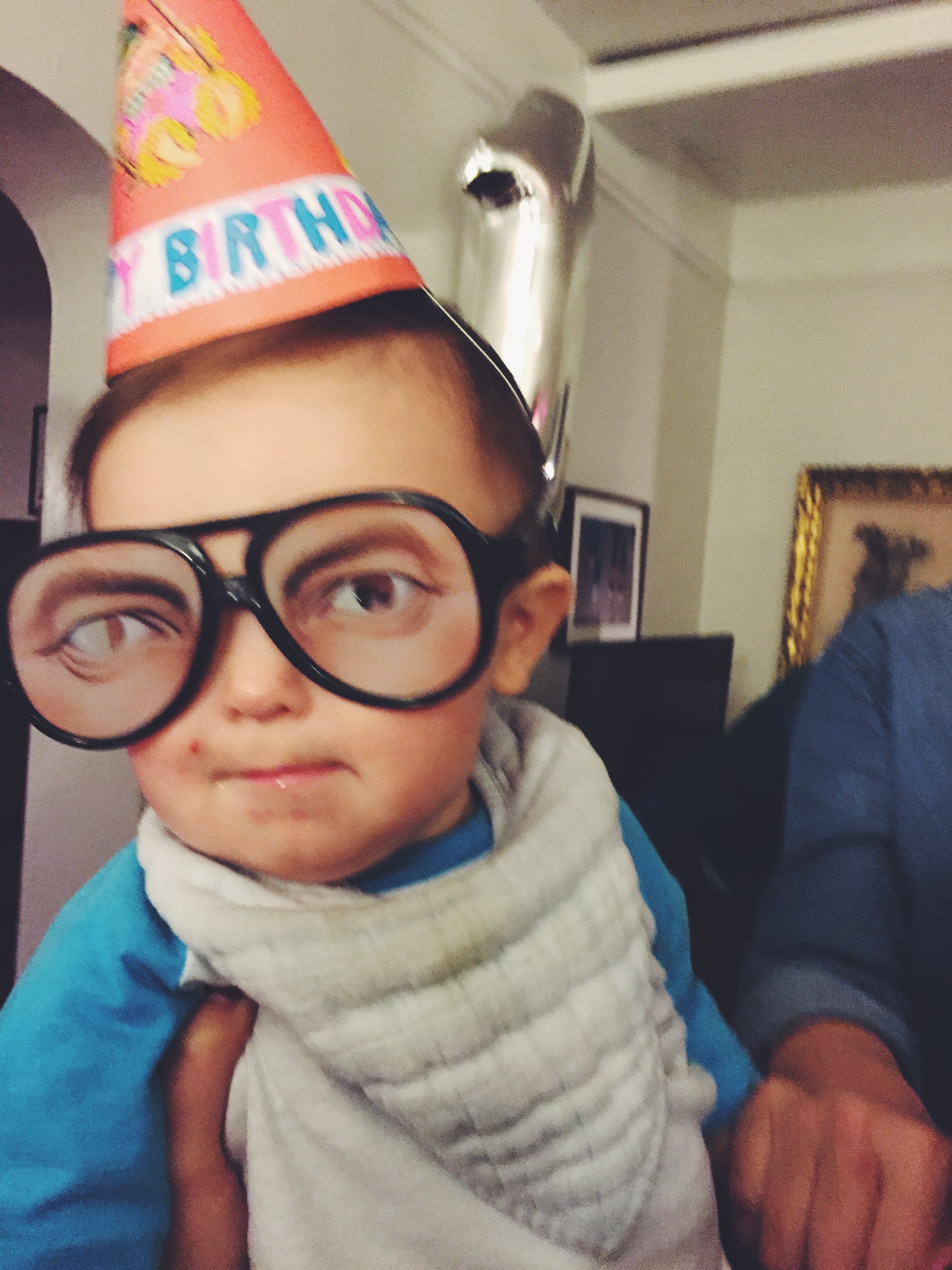 Last Wednesday our little boy turned one year old. I was apprehensive about hosting a party, for multiple reasons, but finally obliged and kept it tight with just family. Those who love him the most and who he is lucky enough to see on the weekly.
My mom made the raccoon piñata a couple weeks before Mo's birthday so it became a mini theme for us accompanied by a larger than life raccoon balloon. The piñata was a surprise to us and was inspired by a meme Mike found around the time Mo was born and has become a real life memory for us, not just the internet kind.
I am not a cook, especially for a big crowd, so we ordered hamburgers and fries from local restaurant Little Big Burger and my mother in law made a giant salad. I did however bake a cake. This was something I had in my head that I really wanted to do, like I would get some kind of special motherhood stripes by doing so. I took a family tradition of mashing up some banana with a couple boxes of yellow cake mix, whipping up some heavy cream and slicing strawberries to garnish. Simple, delicious and really pretty.
I stuffed the piñata with toys from the local party store: funny glasses, bouncy balls, plastic animals and figurines, those party noise makers that you usually use on New Years eve and candy cigarettes (for the adults). The three cousins in attendance were not even disappointed that the piñata was not filled with candy. And the adults actually enjoyed the candy cigarettes. It was so funny to look around and see most everyone holding on to a candy cig and going about their business. Sipping their wine or beer, chit chatting. It was quite a sight.
We sang him all four happy birthday songs (yes we sing 4 differeny versions of happy birthday) and almost 5 year old cousin Arturo blew out Mo's candle after the third song... We quickly relit as we sang the last song and upon completion Mo smashed his hand into the cake to make a dent and grab a taste. His little hand fittingly looked just like a raccoon paw. Pretty cute.
Hosting the first birthday was a lot more fun than I thought it would be. It kicked off four straight days of partying for our crew. 12/23 the birthday, 12/24 Christmas Eve dinner at my Aunt's house, 12/25 Christmas Morning & Christmas Dinner at my parent's house and then 12/26 McChristmas (Christmas with Mike's fam) all day at my sister in laws. We had our share of partying and it was a great celebration all of the way through. We are now rested up and ready to figure out what to do for NYE. Per usual we have procrastinated in making plans and will see where the night takes us.
Thanks for reading now and over the past year. I have my own #oneyearamadre post on deck. All about my feelings at this point of my life as the madre to a one year old, its coming soon.
xx Ly